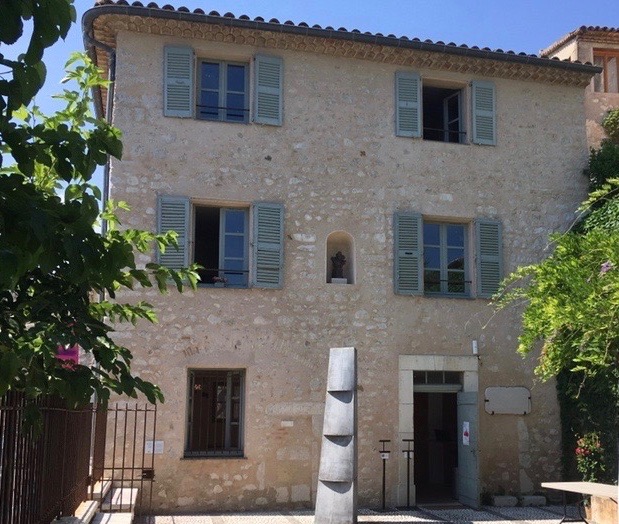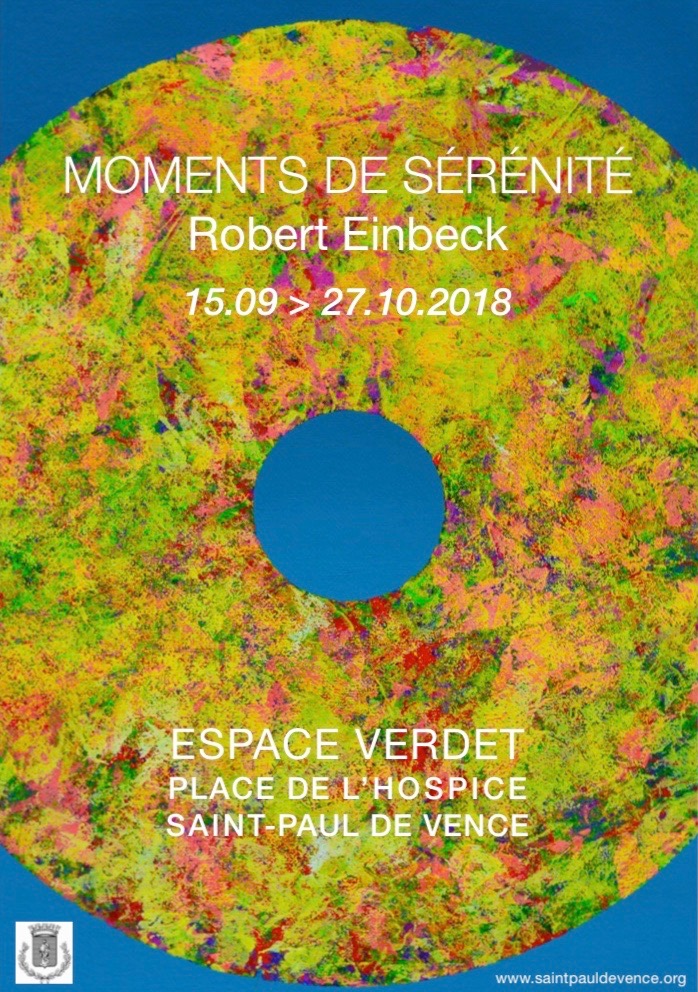 Poster of the exhibition
MOMENTS OF SERENITY
CENTRE ANDRE VERDET
R

EMPARTS

O

UEST –

S

AINT

P

AUL DE

V

ENCE –

F

RANCE
S

EPTEMBER

15

-

O

CTOBER

27

,

2018
In July 1967, The Museum of Saint Paul de Vence exhibited 'Poème Mécanique' [Mechanical Poem], an object-book made of steel and brass, drenched in a gold bath, created by the young poet Robert Einbeck and Raymond Moretti who had just finished a piece of work with Jean Cocteau. That was 51 years ago.
Today, after an international multi-media career, Einbeck will be celebrating this 50-year anniversary at the same legendary place with an exhibition of his most recent work, Poèmes Visuels Silencieux et Musicaux pour accéder à la Sérénité [Silent and Musical Visual Poems by which to Attain Serenity]. An Art of Contemplation, Reflection, and Tranquility that may help transcend. Einbeck's motivation seeks to reinstate Emotion and Beauty, which he defines as an Avant-Garde approach in a world where, since the twenties, many artists have deconstructed Art to the point that merely mentioning the concept seems naïve and belonging to an outmoded Romanticism.
However, these notions constantly appear in the conversations and exclamations of our contemporaries, whether it has to do with the beauty and emotion felt toward a human being, an environment, a landscape, a form of architecture, of music, or a painting. Beauty that moves us and that we contemplate. It is by following these precepts that Einbeck decided to put his Art in the Service of Others, by connecting it to music and new technologies and by using the result of the work he has been creating for decades to better affect a wide audience that needs to find itself again in the turmoil of everyday life. The artist wishes to bring those who look at his work to a point where they are revealed to themselves and to the universe that surrounds them.
https://www.saint-pauldevence.com/fiches/expositions-et-vernissages/exposition- moments-de-serenite/
See also – 2013 - Frost Art Museum Exhibition in Miami - USA