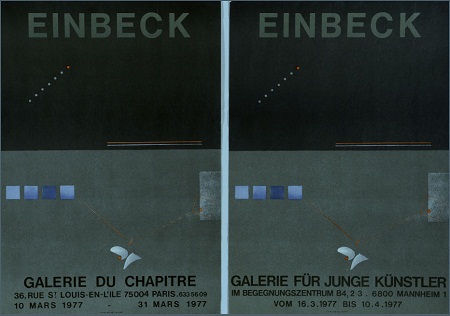 1977 - Poster Exhibits in Paris and Manheim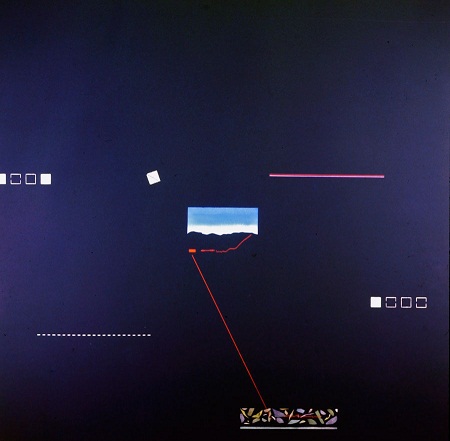 1978 - Berechyit - Tempera on canvas – 74 x 74 inches –
Private collection, New York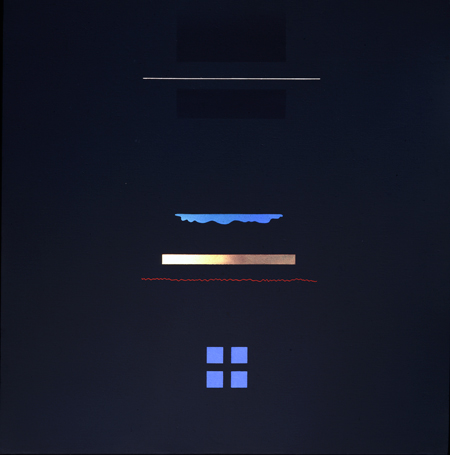 1978 - Life - Tempera on canvas – 40 x 40 inches –
Private collection - Paris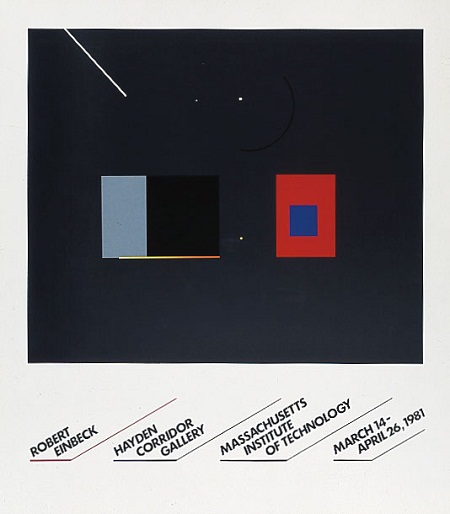 1981 – Poster exhibit M.I.T.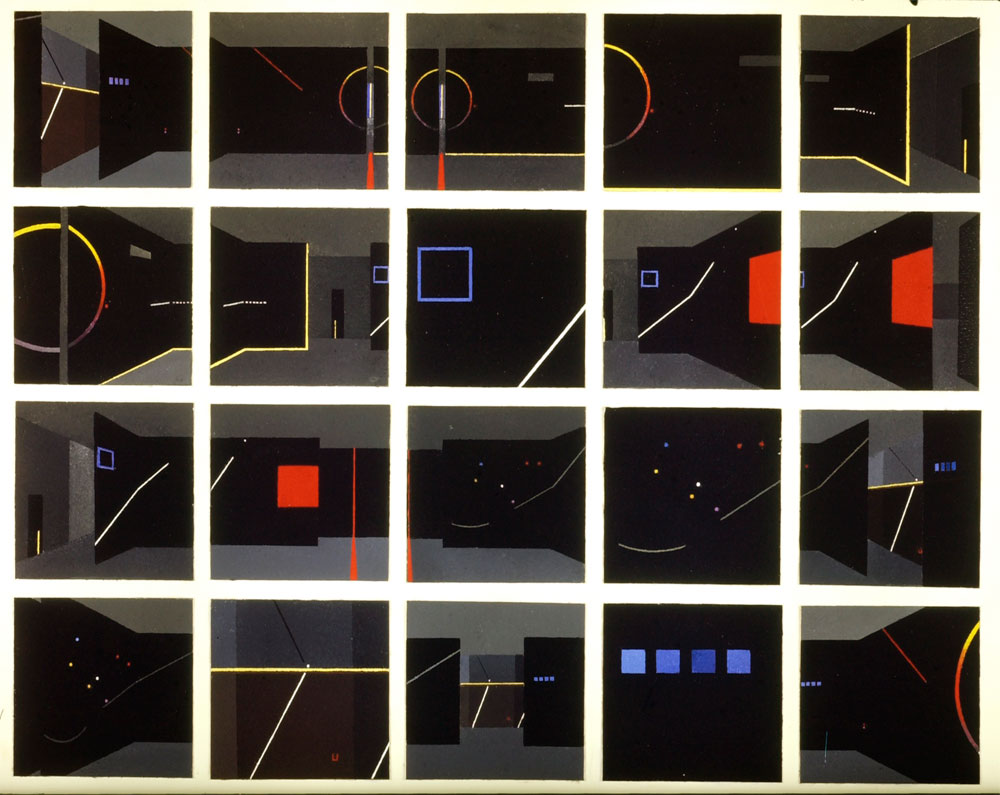 1981 – Study project at the Musée de Montréal - tempera on paper – 20 x 30 inches – Private collection, France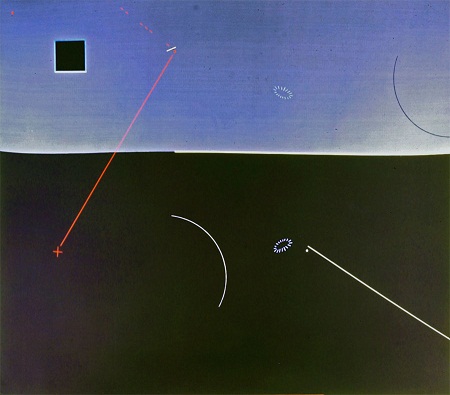 1982 - Eloi Lama Sabachthani - tempera on paper – 47 x 59 inches -
Private collection, Italy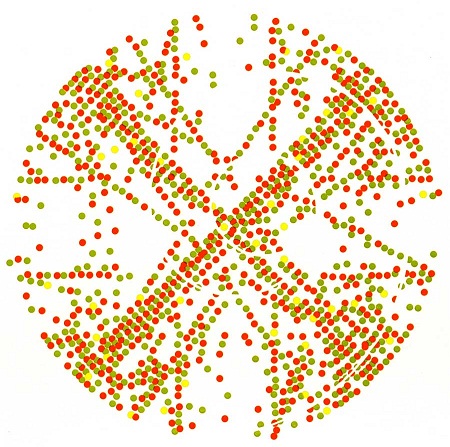 1980-1984 – Study on the progression of the 64 spheres
of the Life's Tree from zero to infinity - 27 x 27 inches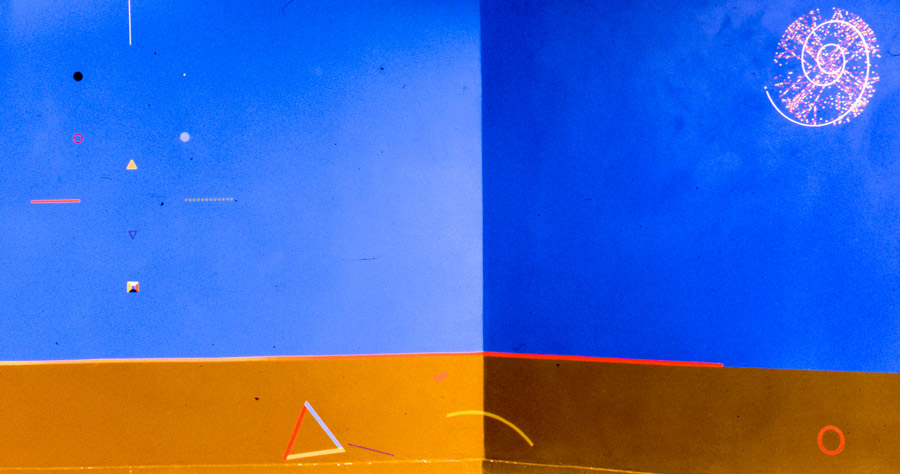 1983 - Detail Mural Swimming Pool in Puteaux La Defense – Paris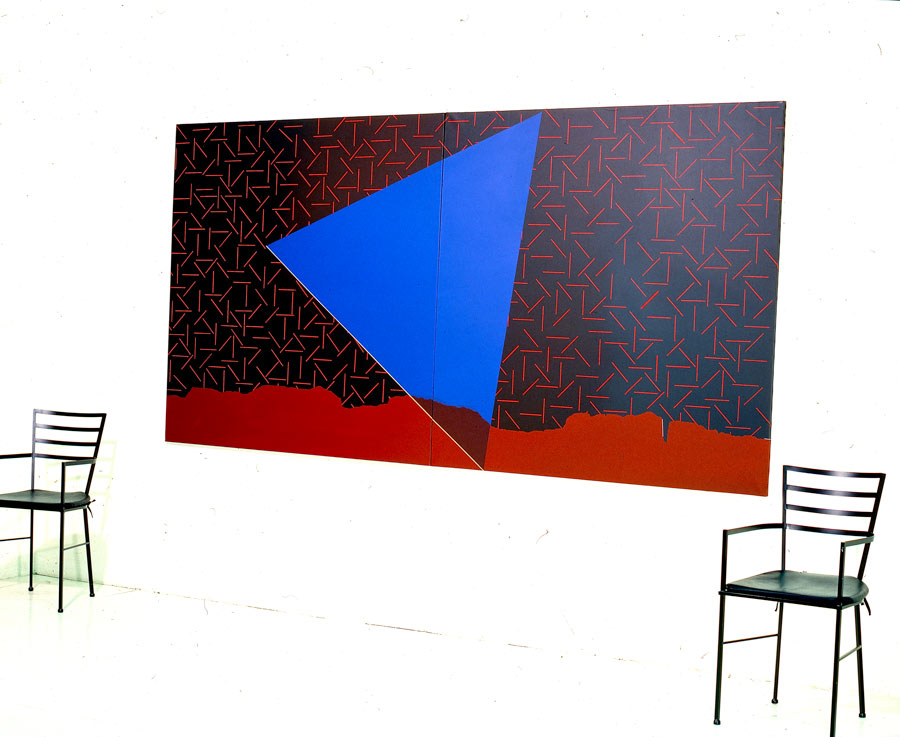 1987 - Exhibition in Basel - Diptych - acrylic on canvas - 60 inches x 144 inches - this painting has been stolen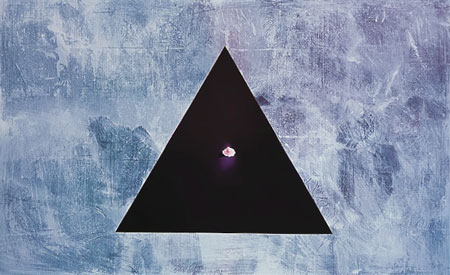 1989 - He delivereth from mine enemies (psalm 18-48) – acrylic on canvas 60 x 95 inches – private collection – Los Angeles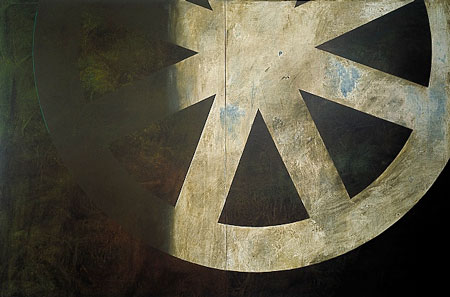 1994 – Rota II – diptych – acrylic on canvas - 60 inches x 144 inches – collection Southwestern Medical Center – University of Texas – Dallas.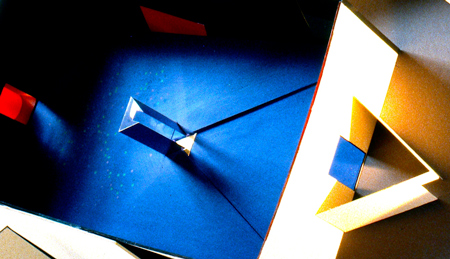 1989 - First model of the Einbecks's Time for Peace Project.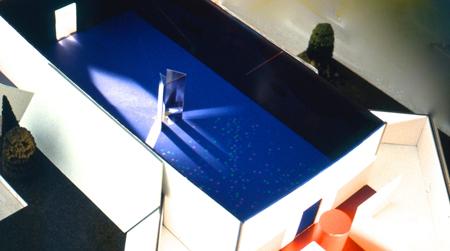 1989 - First model of the Einbecks's Time for Peace Project.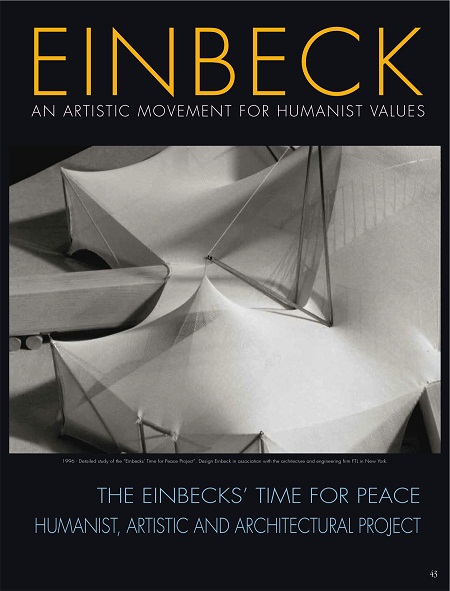 1991 – Introduction of the "Einbecks' Time for Peace Project"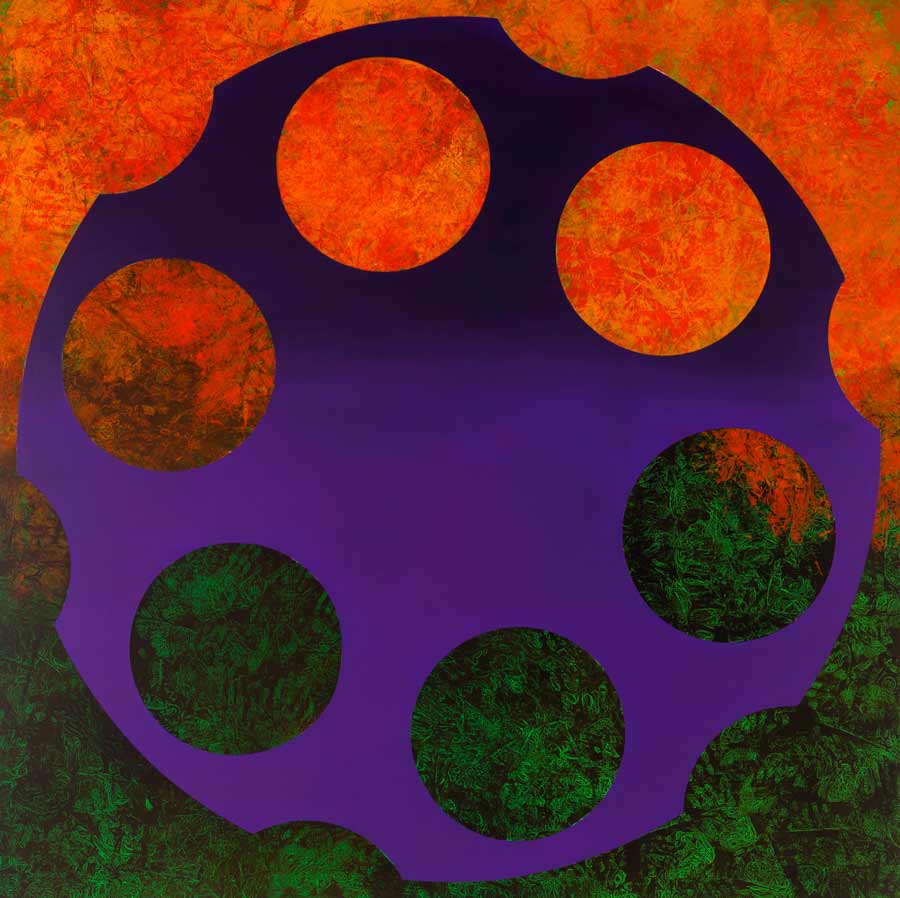 2013 – acrylic on canvas 82 inches x 82 inches – « Gun barrel of the transcendence #10 » exhibited at the Frost Art Museum in Miami affiliated to the museums of the Smithsonian Institution in Washington DC.
2015 – Disc of Serenity - acrylic on paper - 41 x 25, 60 inches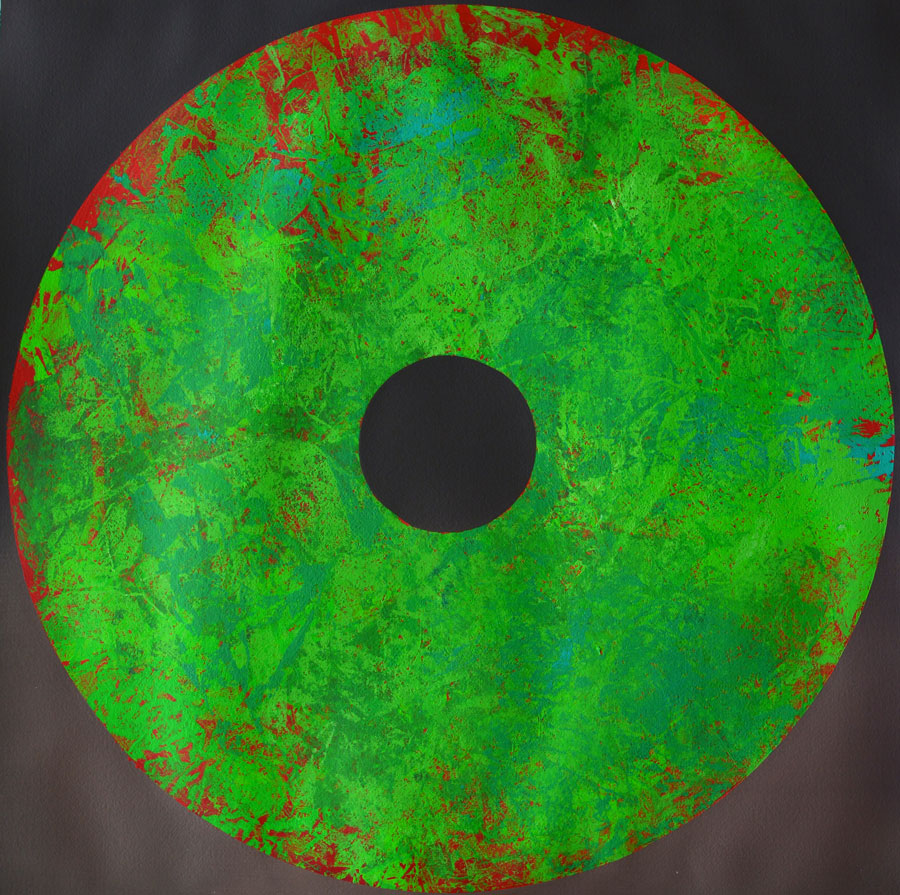 2015 – Disc of Serenity – acrylic on paper 41 x 25,60 inches
CHRONOLOGY
by Raphael Jacobs
To 1964
Robert Einbeck was born in Paris of German and Belgian parents, as World War II was still raging. He was the only child of Raymond Einbeck and Andrée Cohen-Solal. His father's family roots are Germanic, while on his mother's side his origins are Algerian. Her ancestors moved to Europe and she was born in Uccle (Belgium). When Einbeck was born, his mother Andrée, a Jewess, was betrayed to the Gestapo by her brother-in-law. She was saved thanks to the intervention of his father Raymond, who had studied in Essen and was a friend of Alfried Krupp's.
In 1945, when her husband is arrested by the French Resistance Forces and condemned to death as a collaborator, Andrée crisscrosses Paris to plead her husband's cause with the mayor and thereby saves his life. After the war, the now unemployed father gives himself over to drinking and gambling and very soon the family is living in poverty. Einbeck suffers from the disintegrating relationship between his parents, who end up separating. His mother must confront an extremely precarious financial situation and immediately sends her son to boarding school. When he is barely seven years old. A few years later he leaves whereupon he attends school irregularly or else is changing schools in the middle of the semester.
Andrée is involved in emotional relationships without any future until she meets a man of Rumanian origin whose Israeli family settled in Palestine before the state of Israel was created. She follows him to Pakistan where, under a pseudonym, he is a representative for Rolex and General Motors. But accused of being a Jew he has to flee the country and they then settle in Israel where they get married. During all this time Einbeck is once again in boarding school. He doesn't even leave during holiday times although he has a maternal grandmother and an aunt in Paris, but neither of them is given to demonstrations of affection. Einbeck suffers from the isolating lack of love. Andrée and the new father return to France, settle in Nice to start a Far East import-export business, and the child comes to live with them. For Einbeck, who is now 11 years old, the Côte d'Azur is an emotional shock: he gets his first taste of the sweetness of the climate, the beauty of the lush vegetation, and life at the seashore.
With an education that so far has left a lot to be desired, his stepfather sends him to a school of commerce and then to an art school for making jewelry to satisfy the family.
From his earliest childhood on, nursed on the comic strip "Little Nemo in Slumberland" by the American Windsor McCay, and absorbed in magazines like Météor and Bug Danny Einbeck began to draw comic strips himself. As he gets his business off the ground, the tubercular stepfather spends part of his days bed-ridden while receiving intravenous treatments. During that same period, Einbeck rescues his depressed and desperate mother from suicide. The professional institutions he frequents are far from satisfactory to Einbeck who has very different ideas about his own future. Although he goes along with the wishes of his parents, who want to see him earn a living and contribute money to the household, he uses his free time– between his role as an assistant accountant and traveling salesman – to devote himself to what he loves, reads voraciously, and dedicates himself to photography and poetry. Just as his drawings had been regularly exhibited before, his early poems are now being read on the radio.
1965
Einbeck settles in London to perfect his English but also to take some distance from his family. He uses this time to register as an auditor at the Courtauld Institute of Art to familiarize himself with the techniques of certain Renaissance and eighteenth-century painters. Back in France and strengthened by this new knowledge, he works as a broker of ancient painting for an art gallery that is a corresponding member of Sotheby's auction house.
From this time on, Einbeck frequents the major figures of the New Realism, known as the Ecole de Nice (Nice School). His life as an artist is heralded by his meeting and subsequent friendship with the painter-sculptor and illustrator Raymond Moretti, an artist working outside any established movement – who opens the doors of his studio at the film studios of La Victorine to him – heralds his life as an artist. Impressed with his young friend's intelligence, talent, and newly acquired knowledge, Moretti introduces him to Joseph Kessel and Louis Nucéra, with whom he forms a close friendship. The Surrealist painter Pierre Demaria, who lives on the Côte d'Azur, also comes into his artistic life, as does Georges Ribemont Dessaignes, who together with Marcel Duchamp, Francis Picabia, and Tristan Tzara is one of the founders of the Dada Movement.
1966-1971
Raymond Moretti illustrates one of his poems entitled Poème mécanique (Mechanical Poem). It is written on a mechanical beat like that of a set of gears that tighten and release. It summarizes the spirit of the mechanical world that holds humankind prisoner. Einbeck creates 50 copies of a book-object shaped and sized like a 33-record cover, composed of pages of brass drenched in a bath of gold and steel, which are numbered and signed. Illustrations by Moretti accompany the text. The words are pierced into the brass pages and the illustrations are engraved with details pierced like the text. This first work of art gets much notice and receives critical praise. First exhibited in 1967 at the Museum of Saint-Paul de Vence, thereafter in numerous galleries, it is presented at the opening of the Centre Georges Pompidou in Paris in 1977.

At that same period, Einbeck writes Oublier que l'on Vit (Forgetting that We Live), a novel based on waking dreams. Raymond Queneau reads them and finds they have undertones of Lautréamont's Chants de Maldoror, which encourages Einbeck to continue. In that same period, Einbeck meets Salvador Dali, who agrees to illustrate one of his poems called "H, comme bombe" (H, as in Bomb), while Georges Ribemont Dessaignes is willing to do the introduction. The poem is divided into 5 parts that form the five syllables of the word thermonuclear: 1) The phase of the Earth "the creation of the earth" – 2) The phase of Words "the polemics in the world" – 3) The phase of the Nude "return to Nature" – 4) The phase of the Key "The key of atomic contact" – and 5) The Phase of the Air "Final explosion."
In 1968, because feeding himself is obviously an urgent need, Einbeck creates a public relations agency in Cannes but, in 1970, he also accepts the position of artistic director at Editions Draeger in Paris, where he now settles. In this connection, he creates two books: Les Dîners de Gala (Gala's Dinners) with Salvador Dali and Picasso de Draeger (Draeger's Picasso) in collaboration with his friend the photographer Edouard Quinn. In addition, he is involved with the artistic creation of some advertising budgets for Hermès, Léonard Fashion, Dior, among others.
In 1971 he meets the writers Jean Demélier and Jacques Brosse with whom he becomes friends. That same year he leaves Draeger in order to design contemporary furniture but during a visit to the Grand Palais he discovers the work of the American painter Barnett Newman who mentions the Cabbala as a source of his artistic reflection. This comes both as a shock and a revelation to him.
1972-1977
Poetry limited by the language in which it is written no longer satisfies Einbeck and he turns to painting, which offers him an analogous language made of signs, forms, and colors, while possibly being more accessible to a larger public. His first canvases are shown in 1975 in a private exhibition at the house of a Parisian decorator. The critics greet his work positively: "Einbeck's painting is a passage from the world of everyday life to that of spirituality" (Gilles Plazy – Le Quotidien de Paris) – "Painting that moves on the pathway of beauty […]"(Jean Marie Dunoyer – Le Monde) – " …from which […] one escapes with difficulty and which is an invitation to a journey that […] these spaces suggest, at the heart of which a kind of dazzling cosmos arises, the image of an energy confronted by the symbols of heaven and earth…" (Sabine Marchand – Le Figaro) – "The paintings are often composed in series. Then they progressively lead the look of chaos to a dawn-like light…" (Jeanine Baron – La Croix).
In 1978, together with the critic Gilles Plazy and ten other painters, Einbeck participates in creating the movement "Abstraction Vivante" (Living Abstraction), whose first exhibit is seen at the Galerie de l'Esplanade at the Défense. In that same year, after several group exhibitions, the Musée de la Monnaie in Paris awards him the Victor Choquet Prize. The Galerie du Chapitre exhibits some thirty pieces of his with great success: temperas on paper, mandalas of a sort that focus on the notions of chaos moving toward order. The exhibition is introduced by Jean Demélier who writes: "These are mandalas for Western civilization. […] Point, line, spot, movement answer each other and bring everyone here. […] A word that has been forgotten for almost a generation finds its place again, thanks to Robert Einbeck who never lost it for that matter, and with good reason: it is called harmony…" Private exhibits continue, at the Galerie für Junge Kunstler in Mannheim, Germany, and the FIAC in Paris opens a presentation of his paintings together with the works of Max Ernst.
1978-1982
Einbeck leaves his apartment on the Boulevard Montparnasse and moves to Montmartre to the studio at the Bateau Lavoir where Picasso once stayed. Here, in this mythical work place, he begins to follow in the footsteps of Barnett Newman by studying the Cabbala and creates three striking works entitled "Berechyit." They are shown at the l'Hôtel de Ville in Paris and are then purchased by an American collector. Other spiritual and artistic areas in which he is interested are Tantrism, Zen, I-Ching, and Taoism. At the same time he becomes familiar with the work of the Bauhaus, of Paul Klee, the writing of Wassily Kandinsky "Le Spirituel dans l'Art" (The Spritual in Art), and the work of Mark Rothko, which lead him to create spaces and installations that are favorable to meditation and contemplation.
During these years, Einbeck deepens his research in the symbolism of sign, form, and color throughout the centuries. With the deliberate goal of using it for his own work, he establishes the C.E.R.C.L.E.S (Centre d'Études et de Recherches sur la Couleur, la Lumière et le Signe – the Center of Study and Research in Color, Light, and Sign). He surrounds himself with researchers from the CNRS (Centre National de la Recherche Scientifique – the National Center of Scientific Research) and the INSERM (Institut National de la Santé et de la Recherche Médicale – National Institute for Health and Medical Research), but also with musicians like Olivier Messiaen.

During this period, he takes a trip of several months to the USA to make contact with galleries, universities, and museums, in the course of which he meets other researchers, notably at MIT (Massachusetts Institute of Technology) and in San Francisco where Dr. Frank Oppenheimer shows him the Exploratorium he has founded. Among other things, this journey opens the doors to him of MIT's Hayden Corridor Gallery in Cambridge, of the Art Center in Waco and the Gallery of the University of Texas in Arlington, which welcome his series of itinerant shows for which he will realize 12 large temperas on paper, called "Les six premiers Chemins de l'Arbre de Vie" (The First six Ways of the Life's Tree). The Museum of Contemporary Art in Montreal, Canada, wants to have his large artistic itinerant project, which Janine Baron summarizes in an article published in the French daily newspaper La Croix: "[…] In Montreal the experiment will be seen in a series of four rooms: after first going through an aggressive and very colorful space of "implosion and explosion" that should break the rhythm of everyday life, the visitor will enter an ever paler and more restful environment until reaching the final phase, which ought to attain a certain sense of wellbeing by dissolving anxiety and fatigue. Throughout, a study of the public's behavior should allow for the measuring of the physiological effects of the pictorial environment […]."
At this same time, Einbeck has an exhibit at the Galerie du Chapitre where he shows the recent work that came forth from the Cabbala. In a two-column editorial in the Paris Quotidien Gilles Plazy wrote: "[…} Einbeck doesn't make mandalas or illustrate a few religions. His approach is that of a contemporary artist who has assimilated the data of the history of abstract painting in addition to a certain amount of scientific research (and he continues to be in touch with researchers from a variety of disciplines). In his quest for mankind's essential truth he links science to metaphysics and thus finds the fundamental approach of the Cabbala, which is not the occult version of some religion or other, but the text of a science and a universal wisdom of which versions can be found in various civilizations (there is more than one resemblance between the Cabbala and the Chinese I-Ching). If his painting is 'abstract,' if he refuses to have recourse to 'figurative' elements, it is because he doesn't connect with the anecdotes that myths are, but with the universal forces of formation and creation, with the energies that animate the world. In his paintings there is also something of the tension of magnetic fields […]."
In that same year, the SL Art Gallery in Dallas has an exhibition at the FIAC (Foire Internationale de l'Art Contemporain – International Fair of Contemporary Art) and offers him a large area in which to set up a meditation space. This arouses much interest among the public. Countless personalities come specifically to visit this particular place. During the same period Einbeck is the guest of the Paris American Academy's international collection and, among other places, has shows at the André Malraux Museum, the Charly l'Envers Gallery, and the Patrice Landau Gallery. The HMK Fine Arts in New York commissions silkscreen prints, as does Lucy Berman Modern Graphics in Dallas. Industrialists call on Einbeck for specific creative works and that is how he comes to conceive of silkscreen prints for Bussière Graphic Arts, boxed sets of CD's, as well as a set of six champagne glasses for TITN..
1983
The year 1983 brings a decisive turnaround in Einbeck's life. He meets a young woman whose intelligence, magnetic beauty, and intense personal journey fascinate him. Having recently moved to Paris, she hosts a radio broadcast on symbolism. They marry that same year and, from that time on, with the exception of his paintings, Einbeck's projects are done together with Marion, notably the research on color, which starts in 1985 at the Ambroise Paré Hospital in Paris in Professor Bourdarias' department. This research on the influence of color on cardiac patients, whose goal is to serve the elaboration of Einbeck's contemplative areas, is a first. It is led by a multidisciplinary team that consists of a methodological specialist, three cardiologists, an ophthalmologist, a light engineer, a psychologist, an architect, a computer scientist, and Robert and Marion Einbeck. The result – published in many scientific as well as popular reviews and presented at the Quinze Vingt Hospital in Paris and at the Accamedia dei Lincei in Rome – is unexpected. It shows that there is no relationship whatsoever between the physiology and the psychology of patients. As a result of this study, Robert and Marion Einbeck are invited by the Southwestern Medical Center in Dallas and the Georgia Institute of Technology in Atlanta.
1984-1986
The French Ministry of Culture acquires the contemplation space that Einbeck had created for the FIAC. The work is intended for placement in the foyer of the Auditorium of France's Bibliothèque Nationale inaugurated in 1996 by President François Mitterrand.
In that same year, the most important French mail-order house La Redoute commissions him to create a piece for its twentieth anniversary as a member of the stock market. Einbeck designs a silk screen printed in 500 original monotypes. The completed work is presented at a gala evening at the Eiffel Tower. Furthermore, Einbeck realizes a silk screen, run off in 200 signed monotypes, for the magazine L'Express, which is chosen to be exhibited in a show entitled "L'image et les mots" [Images and Words] at the Centre Georges Pompidou.
In 1985, Swatch Watches have Einbeck work on a design for their end-of-the-year wishes. He creates a recto verso silkscreen poster on transparent paper called "Les 24 heures de Swatch" [The 24 Hours of Swatch]. The work receives multiple awards in the United States, in other countries, and is awarded the annual grand prize by the French public relations magazine Média.
While he continues to have exhibitions, he gets other commissions as well – Ebel watches ask him to create a non-permanent mural on the Place Vendôme in Paris – Lintas Wordwide, the Sofinco Bank, Vogue Magazine, and so on.
1987-1988
Sesa Cap Sogeti, a computer information counseling service, asks Einbeck for a piece for the presidential hall at its headquarters, for which he creates an environmental work composed of marble sculptures and murals on steel. The French TV channel M6 asks him to design the set for their weekly broadcast on the cinema, "Oh Cinéma." In that same year, Robert and Marion Einbeck combine their expertise to study the frequency of quotations from the Bible. The couple then creates an oracle that brings together the 64 primary Biblical notions, selected on the basis of the frequency of their citation, conceived of as a guide to conscience. which is published by Grimaud.
In December 1987, the Mainetti Gallery in Basel (Switzerland) exhibits an impressive contemplation space that Einbeck calls "Espace Christique" [Christic Space]. The exhibition receives international media attention and half a page of coverage in the International Herald Tribune. Undoubtedly, this is what triggers Marion Einbeck to urge her husband to create an itinerant contemplation space for peace in the world.

They leave France and settle in the USA in order to put their project in place but before their departure Einbeck designs another important commission for the hall of the headquarters of Rhône Poulenc Santé (currently known as Aventis), which is called the "Espace Einbeck" in his honor. The completed area consists of sculptures, a fresco mural, bas-reliefs, the design of the hall itself, and the colors of the hallways so they will bond with the work as a whole. This would be his final work in France.
1989-2011
Robert and Marion Einbeck sell their personal property so they will have a sufficient amount for their resettlement in New York where they plan to devise the itinerant contemplation space they wish to create. The magazines Metropolis and Interior Design devote lengthy editorials to them and they are soon associated with teams of architects and engineers.

The project known as "Einbecks' Time for Peace Project" grows into a concert hall and a movie theater.

After several exhibitions, and following upon Robert Rauschenberg, Einbeck is invited to show his work, composed of three main themes "Rota," "Adamah," and "Homo Anima," at the Lemarié Tranier Gallery in Washington.
For the first time fragments and segments of organic and vegetative forms appear in his work, particularly in the series of paintings called "Homo Anima." Einbeck presents them as if they were seen in disjointed dream sequences.
The articles on the Einbecks published in the Washington Post bring more than 1500 visitors, which the gallery is unable to contain on the day the show opens. Canvases are purchased, some of which go to the Children's National Medical Center in Washington, DC, to the Southwestern Medical Center in Dallas, to Continental Insurance and Absolut in New York, to Baby Guess in Los Angeles and to private collectors.
In that same year, Léo Castelli becomes interested in Einbeck's work and tells him so but, as always, once Einbeck makes a decision he sticks to it. He had already decided to stop painting temporarily in order to devote himself with Marion to the "Time for Peace Film & Music Awards" which they create in 1994 to raise funds for their artistic itinerant project. However, the success of the ceremony, which annually honors cinematographers and composers whose current work conveys humanist values, is so great that with each passing year it grows into a larger event, taking up their time, energy, and assets.
In 1995, Einbeck provides Saks Fifth Avenue in New York City with large canvases for their windows, which also celebrate Stevie Wonder whose music accompanies the painter's work, in honor of the second "Time for Peace Film & Music Awards" ceremony, where the singer receives the award for his album "Conversation Peace."
2012-2015
For about 18 years Robert Einbeck dedicated his time to 'the Time for Peace and Film and Music Awards', which goal it is to promote the humanistic values through film and music. He decided to withdraw himself from the project and devote himself once again solely to his painting. The organization was restructured in such a way that the magazine that comes with it, is managed by Marion Einbeck.
Motivated and driven by the fraternal energy of his friend Moshe – Einbeck returns to the artistic scène and designs a picturesque work, which embodies both new and never published visual images.
Einbeck's intention is to question both the violence inherent to the human existence – violence within the home, violence within a city, violence caused by war but also the violence that every human being experiences within him – and death,which is a consequence of an aggressive act of the other. That is why in June 2012 he writes a manifest on the subject of firearms that is at the basis of the canvases that are exhibited in 2013 in the Frost Art Museum of Miami, one of the most important museums of Florida and part of the Smithsonian Institution in Washington DC. That same year he not only creates –on demand of his friends Annick and Jean Cousteau – The Sacred Cows but also realizes together with a London music producer a musical and visual project which he calls the Shock Bang Project.
TODAY

Today, after having dedicated his work during two years to what he calls now « The Barrels Period », Einbeck returns with 'the Discs of Serenity' to the source of his work back in the seventies. A spiritual form of painting that takes the viewer on a journey of contemplation, meditation and onto a better understanding of yourself and the world around you.